Home > Cleaning Industry News February 2008
NEW TV PROGRAMME ABOUT THE CLEANING INDUSTRY
At the end of this year a new television programme will be broadcast in Holland, all about working in the cleaning industry. The aim is to produce a programme which will give the general public an insight into this relatively unknown business.
In the style of the high rating reality shows, it will be broadcast daily and follow professional cleaners from the moment that they wake up to when they go back to bed. Different jobs will be featured each day, such as Window cleaning, Carpet cleaning, Hospital cleaning etc, and will illustrate all the various activities involved for the specialised cleaning staff involved.
It is hoped that if successful it will be sold to other TV stations throughout Europe including the UK.
ENDS
LATEST EUROPEAN FEDERATION OF INDUSTRIAL CLEANING (FENI) GUIDE IS PUBLISHED
With the help of funding from the European Commission, a guide has been issued to assist public bodies, hospitals etc who deal with tenders from cleaning contractors.
This guide which is published in twelve different European languages, advises the reader how to evaluate the most cost effective bid made by cleaning firms. The advice will help to show which tender offers the best value for money in terms of quality, rather than just the cheapest.
This will be good news to the many cleaning contractors who often complain that these public bodies almost always chose the cheapest tender, when others, perhaps offering the best value, are frequently overlooked.
ENDS
A.1.CLEANING SUPPLIES WILL NOW ONLY STOCK C.H.S.A. ACCREDITED PRODUCTS
From February 1st 2008 this company will only supply toilet rolls, refuse sacks and mops from manufacturers who are members of CHSA Manufacturing Standards Accreditation Schemes.
The C.H.S.A. is a trade association, intent on raising industry standards and assisting its members to provide their customers with 'value for money' solutions to their cleaning and hygiene needs. Members of these Schemes undertake to fully and accurately label their products with agreed measures so that customers can buy them, confident that they are receiving what they have paid for. The Schemes are policed by independent inspectors who have disciplinary powers to address any non-compliance.
On the face of it, current consumer legislation in the form of the Trade Descriptions Act and the Weights and Measures Act should protect the purchaser of products against short measure or misrepresentation. This, however, is not the case. There is, for example, no mandatory requirement to label soft tissue products in the 'away from home' market. Without a label they can be passed off as being of any length or sheet count with no regard to the law.
Currently three schemes have been developed covering:- soft tissue products, cotton mops and refuse sacks, and it is these that A.1. Cleaning Supplies will always deliver unless any other is specifically requested by the customer.
Products manufactured to these standards can easily be recognised as they carry the CHSA Accreditation Scheme logo.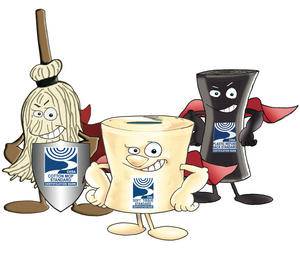 ENDS
THE BRITISH INSTITUTE OF CLEANING SCIENCE "BEST VALUE REPORT" AVAILABLE TO PURCHASE
The British institute of cleaning science, who lead the industry in cleaning education have now introduced their "Best Value" report offering agreed standards of cleaning in all areas. Whilst being compiled, their prime concerns were also to ensure that all standards advised, conformed fully and completely to Health and Safety regulations.
With the introduction of "Best Value" and, through this, the requirement of an acceptable definition of 'what is clean' the British Institute of Cleaning Science, together with members of the industry have developed a cleaning 'standard'.
This report indicates both acceptable and unacceptable standards of cleaning, and will be of interest to all in our industry. We also feel many of our cleaning contractor customers, will be very interested by the inclusion of an average productivity rating (the amount of area covered by one operative in one hour based against the individual specifications).
The cost of the full Best Value Report, including the Specifications and Productivity Ratings,is £25.00 to BICSc Members and £30.00 to Non Members.
For a copy contact the BICSc by email at info@bics.org.uk, with your Official Company Order number, or send a cheque to BICSc Head Office, at The British Institute of Cleaning Science, 9 Premier Court, Boarden Close, Moulton Park, Northampton, NN3 6LF. (Tel: 01604-678710, Fax: 01604-645988).
Further information is available on the BICSc website.
ENDS