If you are looking for competitively priced window washing detergent, enter into the shop below to view our product range and order securely on line. Alternatively, read on to find out all there is to know about our selection of detergents.

A1 Cleaning Supplies introduces a selection of window washing detergents from leading manufacturers including Unger, Ettore, SYR, Pulex, Contico and others. Take advantage of our fantastic window washing detergent discounts now, by placing your order easily and securely, using our online shop.

Detergents
We stock a number of different types of window cleaning detergents and soaps, all concentrated and with high cleaning power. Although modern detergents are usually synthetically manufactured, they are neutral PH and usually free from noxious matter, and therefore safe to the environment. Although as a cleansing agent they differ from soap, they still have the same capabilities to emulsify oils and hold dirt in suspension, and are therefore ideally suited to window cleaning.

Although detergents act like soap, they are derived from organic acids rather than fatty acids. In use, their molecules surround particles of grease and dirt, allowing them to be carried away. Window cleaning soaps, which are made from the salts of vegetables or animal fats, are available as liquids, gels or dissolvable tablets. They are all high-yield and eco-friendly.

In window cleaning, soaps are used to loosen dirt on the glass or as a release agent during scraping. All are very concentrated and very economic in use. In some situations, the gels can be more convenient than the
liquids as they can even be applied directly onto the washer if necessary.
If you require advice regarding cleaning tasks or cleaning supplies, then please phone our technical dept on 01276 685985 or e-mail us at info@a1cleaningsupplies.co.uk and one of our experienced team will be happy to help and advise you.
Special Offers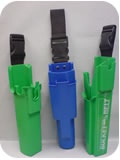 BUCKET ON A BELT.
Unger Classic, Unger Modern or SYR blue.
£13.95 + vat (includes postage)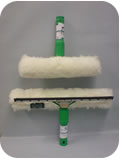 VISA VERSA. 10inch/14inch/18inch.
From £17.95 + vat (includes postage)