If you are looking for competitively priced window cleaners glass scrapers and blades, enter into the shop below to view our product range and order securely on line. Alternatively, read on to find out all there is to know about our selection of glass scrapers and blades.

A1 Cleaning Supplies introduces a range of window cleaners glass scrapers and blades, from leading manufacturers including Unger, Ettore, SYR, Pulex, Contico and others. Take advantage of our glass scrapers and blades discounts now, by placing your order easily and securely by using our online shop.
Glass Scrapers
We stock a number of different types of window cleaners glass scrapers including safety scrapers with retractable blades, handled scrapers with reversible blades or the traditional stainless steel type that also fit on squeegee handles.

The very popular safety scrapers with retractable blades are available in either 1.5"/4cm or 4"/10cm sizes, they are lightweight and extremely convenient and safe to use. They are ergonomically designed with easy blade changing capabilities.

The handled types are available in sizes, 4"/10cm and 6"/15cm. They are very effective, with a larger scraper surface and reversible blades, which are sharp on one side and blunt on reverse side. They are also supplied with a protective safety cap. The traditional stainless steel glass scrapers have a folding mechanism and fit most squeegee handles, allowing them to be attached to extending poles for high level glass/window scraping.

Scraper Blades
Are made of razor sharp carbon steel, and must be handled with the utmost care, particularly when changing blades. Each blade is 4-way sharpened, and both individually wax paper wrapped and lacquered for longer rust protection. Most are safely packed and stored in convenient plastic dispensers.

How the professionals use glass scrapers
Check if glass is scratch resistant and suitable for scraper use (not solar glass, crown glass or safety glass), if unsure always perform a scrap test first. Always check and report any existing damage before starting. The surface to be scraped should always be wet, and always scrap in one direction. To avoid scratching, be sure never to never pull the scraper back on the glass. If in doubt, follow the glass manufacturers instructions.
If you require advice regarding cleaning tasks or cleaning supplies, then please phone our technical dept on 01276 685985 or e-mail us at info@a1cleaningsupplies.co.uk and one of our experienced team will be happy to help and advise you.
Special Offers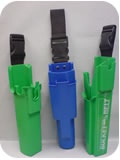 BUCKET ON A BELT.
Unger Classic, Unger Modern or SYR blue.
£13.95 + vat (includes postage)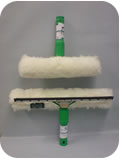 VISA VERSA. 10inch/14inch/18inch.
From £17.95 + vat (includes postage)