If you are looking for a competitively priced James vacuum cleaner, enter into the shop below to view our product range and order securely on line. Alternatively, find out all there is to know about James vacuum cleaners below.
A1 Cleaning Supplies introduces a wide range of UK cleaning equipment from leading manufacturers including: Numatic, Prochem, Victor, Taski, Scot Young Research, Contico and others. Take advantage of our fantastic
James vacuum cleaner discounts now, by placing your order easily and securely, using our online shop.
James Vacuum Cleaner
The James vacuum has been designed by Numatic, the manufacturers, as an economy version of the world renown Henry vacuum cleaner with the happy smiling face, which can be found being used by both cleaning companies and householders in thousands of domestic and commercial buildings throughout many parts of the world. From major cities like London, Paris and Rome to Dubai, Johannesburg and Melbourne.

However, just like the Henry vacuum, the James vacuum can also be seen cleaning many famous buildings, universities, colleges, hospitals, cinemas, theatres, factories and offices everywhere. Although a slightly smaller dry vacuum than "Henry", it has a powerful 800 watt motor and a unique caddy top which when in use, allows for easy storage of small tools, duster, polish, etc. As an economy version, the James does not have a rewind system, instead when not in use, the exceptional 10 metre long cable can sit in the open top of this machine.
James is very light, weighing just 5.2kg, with an 8 litre capacity and is supplied coloured yellow, with a basic set of tools. which consists of a 1.9 metre flexible hose, painted aluminium tubes, standard floor tool, small dusting brush and crevice tool.
He is available in either 110v or 230v and is supported by an extensive 2-year guarantee from Numatic.
If you require advice regarding cleaning tasks or cleaning supplies, then please phone our technical dept on 01276 685985 or e-mail us at info@a1cleaningsupplies.co.uk and one of our experienced team will be happy to help and advise you.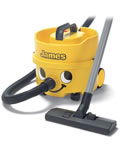 JAMES VACUUM CLEANER
£70.00 + vat
(£7 postal charge)