If you are looking for competitively priced mopping equipment, enter into the shop below to view our product range and order products securely online. Alternatively, find out all there is know about buying mopping equipment below.

A1 Cleaning Supplies introduces a wide range of mopping equipment from leading manufacturers including Contico, Scott Young Research (SYR), Ramon Hygiene, Hill Brush co.and others. Take advantage of our online discounts now by placing your order easily and securely using our online shop.
| | |
| --- | --- |
| | |
| SYR SOCKET MOP HEADS | LTS BUCKET + WRINGER |
| | |
| | |
| | |
| | |
| BULLDOG MOP BUCKET | METAL MOP BUCKET |
| | |
| | |
| | |
| | |
| KENTUCKY MOP HEADS | PLASTIC MOP BUCKET |
| | |
| | |
Mop Buckets
We stock both a quality and an economy range of various mop buckets. They are all lightweight and easy to handle, and include the basic plastic or galvanised steel type with built in mop wringer, which are ideal for use with socket (dolly) mops.

Also available are the much more substantial bucket and separate wringer sets, which are considerably better to use for larger areas of flooring. Their use will allow for much more efficient coverage of areas, and more thorough wringing out of the mop. These types of mopping sets also allow dirt particles to fall to bottom of the bucket during use, where they can be trapped to ensure less dirt is suspended with the detergent, and leads to cleaner mopping.

Mops
We have a very large range of mops, including microfibre, spun lace, cotton and nylon types, some stitched, some loose with cut or looped ends. We also have anti-bacterial mop heads, and the anti-fungal types that will not allow the growth of any undesirable bacteria or mould spores.

Most mop heads are either the round socket (dolly) types used with more domestic mop bucket with a built in wringer or the Southern or Kentucky types, which are used with the separate wringer. We also stock various flat mops, which can be very useful for mopping large level floors, especially where there are many units, fridges etc such as showrooms and supermarkets.
If you require advice regarding cleaning tasks or cleaning supplies, then please phone our technical dept on 01276 685985 or e-mail us at info@a1cleaningsupplies.co.uk and one of our experienced team will be happy to help and advise you.
Special Offers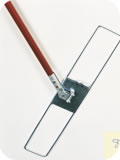 FLAT MOP (Flat Mop Handles)
£7.99 + vat (includes Postage)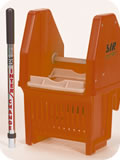 E5 MOPPING WRINGER
From £26.00 +vat (includes Postage)