If you are looking for competitively priced pointed ladders, enter the shop below to view our full product range and order securely online. Alternatively, find out all there is to know about our various pointed ladders from the descriptions and details listed below.

A1 Cleaning Supplies introduce a wide range of pointed ladders from leading manufacturers including Titan, Youngmans, LFI ltd, Browns, Lansford and others. Take advantage of our online discounts now by placing your order easily and securely using our online shop.

Pointed Ladders
Here at A.1. Cleaning supplies, we stock a number of different types of pointed or "A" frame ladders suitable for window cleaning and numerous other situations where height is required and access is difficult. Our product range consists of aluminium and wooden ladders, both single and extending twin section models.

The aluminium ladders are mostly manufactured from hollow seamless aluminium extrusions with radiused corners for extra strength. The wooden ladders are strongly manufactured to the highest standards with varnished side stiles and steel tie rods fitted at intervals.

All our pointed ladders have a reach capability varying between two and six metres and a roller bar is fitted to all extension ladders. They all have solid rubber bung feet fitted at the base and many are available with white moulded, solid rubber block fitted at pointed tops with vertical and horizontal grooves to ensure secure location on glazing bars, ledges and corners.

There is a lot of confusion amongst window cleaners regarding when ladders can be used, some even believe ladders are banned. The Health and Safety Executive's key message is that ladders should only be used for low risk, short duration work. They are not banned, but nowadays ladder use should be justified. Situations where our pointed ladders may be suitable include ground floor use, most internal glazing and almost any domestic or small commercial premises.

If you do decide that the use of a ladder is the most suitable means of access, then you should carry out a risk assessment into the actual use of the ladder and ensure that you use it safely. In these days of enlightened health and safety concerns, telescopic extending poles might also need to be considered, as they allow operatives to work at higher levels, whilst standing on the ground. This is essential now that we are all required to find the safest solutions. Ladders should not automatically be the first choice, simply due to convenience.
If you require advice regarding cleaning tasks or cleaning supplies, then please phone our technical dept on 01276 685985 or e-mail us at info@a1cleaningsupplies.co.uk and one of our experienced team will be happy to help and advise you.
Special Offers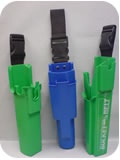 BUCKET ON A BELT.
Unger Classic, Unger Modern or SYR blue.
£13.95 + vat (includes postage)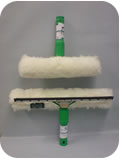 VISA VERSA. 10inch/14inch/18inch.
From £17.95 + vat (includes postage)