If you are looking for competitively priced window cleaners pouches and holsters, enter into the shop below to view our product range and order securely on line. Alternatively, find out all there is to know about our selection of pouches and holsters.

A1 Cleaning Supplies introduces a wide range of window cleaners pouches and holsters, from leading manufacturers including Unger, Ettore, SYR, Pulex, Contico and others. Take advantage of our fantastic pouches and holsters discounts now, by placing your order easily and securely by using our online shop.
Pouches
We stock a number of different types of non porous window cleaners pouches, with most of the range being made from Nylon, Vinyl or Denim. Most are single pouches that a belt can be threaded through, and will hold the professional window cleaners tools or cloths.

We also stock a plastic double pouch, allowing even more carrying space, also a nylon version with three separate compartments. Both of these will allow the operative to carry both wet and dry cloths. One compartment on the nylon version includes a front pocket with flap and velcro fastener.
Holsters
Our window cleaners holsters are made from heavy grade leather with studded reinforcements. They have two compartments and are usually finished with a universal slotted belt attachment, although we do stock one type fitted with snap fasteners, for even easier attachment to a belt. Our leather holsters are extremely robust and very convenient for carrying both squeegees and window washers.
If you require advice regarding cleaning tasks or cleaning supplies, then please phone our technical dept on 01276 685985 or e-mail us at info@a1cleaningsupplies.co.uk and one of our experienced team will be happy to help and advise you.
Special Offers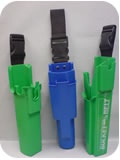 BUCKET ON A BELT.
Unger Classic, Unger Modern or SYR blue.
£13.95 + vat (includes postage)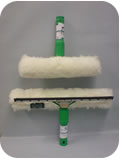 VISA VERSA. 10inch/14inch/18inch.
From £17.95 + vat (includes postage)