If you are looking for a competitively priced Prochem carpet machine, enter into the shop below to view our product range and order securely on line. Alternatively, find out all there is to know about Prochem carpet cleaning machines below.

A1 Cleaning Supplies introduces a wide range of UK cleaning equipment from leading manufacturers including: Numatic, Prochem, Victor, Taski, Scot Young Research, Contico and others. Take advantage of our fantastic Prochem carpet machine discounts now, by placing your order easily and securely, using our online shop.
Prochem Carpet Machines
As award winning distributors for Prochem, we can supply any of their range of portable carpet cleaning machines direct to our customer, with a voucher allowing the free day's training offered by Prochem to anyone purchasing their machines. We are unable to supply Prochem truck mounted machines, but can arrange purchase direct from Prochem who do the fitting for us. Any agreed discounts we offer would still be honoured.

The most popular Prochem machines purchased by professional carpet cleaners and carpet cleaning companies are the latest and most advanced in Prochem's range of portable soil extraction models, the scuff-resistant granite finish Steempro 2000 machines. This model is the ideal high-power carpet extractor for the single operator, the Steempro 2000 incorporates a high power vacuum and pump system with an internal 'whisper quiet' silencer making it one of the most powerful yet quiet portable extractors in the world.

The range options include single and dual 3-stage vacuum motors, 70psi and 120psi pumps and a "clip-on" in-line 2.8kw heat exchanger which produces virtually instant hot cleaning solution. Each machine comes complete with a full set of hoses and the very efficient Glidemaster stainless steel wand. They have top handle-mounted switches, and and automatic vacuum shut-off.

A sample image of the Steempro 2000 can be seen in the "special offers" on this page. The features of these machines includes a choice of three model specifications and two tank sizes, a choice of single or dual 3-stage vacuums. The three models are the 35 litre Powerflo and Powermax or the 55 litre Powerplus.

The Powerflo offers a pump pressure of 70psi and a single vacuum motor, a 5 metre hose and a single jet wand. The Powermax and the larger Powerplus have a pump pressure of 120psi, twin vacuum motors, a 7.6 metre hose and a wand with twin jets.
If you require advice regarding cleaning tasks or cleaning supplies, then please phone our technical dept on 01276 685985 or e-mail us at info@a1cleaningsupplies.co.uk and one of our experienced team will be happy to help and advise you.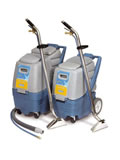 PROCHEM STEEMPRO CARPET
CLEANING MACHINES
From £1695 + vat
(postage additional)