If you are looking for competitively priced squeegee replacement rubbers, enter into the shop below to view our product range and order securely on line. Alternatively, read on to find out all there is to know about our selection of window cleaners squeegee replacement rubbers.

A1 Cleaning Supplies introduces a range of squeegee replacement rubbers, from leading manufacturers including Unger, Ettore, SYR, Pulex, Contico and others. Take advantage of our replacement rubber discounts now, by placing your order easily and securely by using our online shop.
Replacement rubbers
We stock a number of different types of window cleaners replacement rubbers and they are all of a professional quality for long durability and a streak free finish. They are extremely effective blades, and with their sharp edges will allow thorough glass and window wiping.

As all window cleaners will have their personal preference for replacement squeegee rubbers, we stock the finest moulded compound rubbers in soft, medium or hard grades, any of which will handle large areas easily and quickly. Any grade will also fit brass, stainless steel or even plastic squeegees.

Our rubbers are all available in 36"/92cm and 42"/105cm lengths, allowing the purchaser to cut to any size required. For convenience we also stock pre-cut lengths in the following standard squeegee sizes 6"/15cm, 10"/25cm, 12"/30cm, 14"/35cm, 16"/40cm, 18"/45cm, 20"/50cm and 22"/55cm.

Although all our replacement rubbers can be purchased individually, we also sell them in packs of 10 or in sturdy and convenient see through plastic storage boxes of 25. These boxes keep the rubbers secure and organised and protects them against dirt and bending.

About Squeegee Rubber
Although our finest quality moulded squeegee rubbers, will ensure a streak free finish, many window cleaners are unsure which grade of rubber is best for them. To help customers decide, it is generally the rule that soft rubbers are ideal for colder temperatures and will adjust better to uneven surfaces, whereas hard rubbers are ideal for warmer temperatures, and more suited to larger, smooth surfaces.
If you require advice regarding cleaning tasks or cleaning supplies, then please phone our technical dept on 01276 685985 or e-mail us at info@a1cleaningsupplies.co.uk and one of our experienced team will be happy to help and advise you.
Special Offers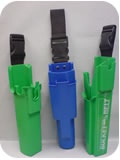 BUCKET ON A BELT.
Unger Classic, Unger Modern or SYR blue.
£13.95 + vat (includes postage)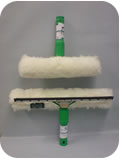 VISA VERSA. 10inch/14inch/18inch.
From £17.95 + vat (includes postage)