If you are looking for competitively priced window washer t-bars and covers, enter into the shop below to view our product range and order securely on line. Alternatively, find out all there is to know about our selection of
window washer t-bars and covers below.

A1 Cleaning Supplies introduces a wide range of t-bars and covers, from leading manufacturers including Unger, Ettore, SYR, Pulex, Contico and others. Take advantage of our fantastic window washer t-bars and covers discounts now, by placing your order easily and securely by using our online shop.

T-Bars
We stock a number of different types of sturdy and durable window washer t-bars (sometimes known as applicator handles), all available in the standard sizes 10"/25cm, 14"/35cm and 18"/45cm. Some types are
also available in 6"/15cm and 22"/55cm sizes.
Regular models are ergonomically designed with rubber handle grips or finger groves, whilst the most professional models have twin component handles and are non slip for even more secure grip. Modern t-bars are also designed to retain more water, which flows evenly through the cover, spreading the correct amount of liquid on the glass.

Swivel T-Bars
These models with swivel action, are freely adjustable and lockable, and are the ideal problem solvers for hard to reach places. They compliment the swivel squeegees, because when attached to a telescopic pole, they can equally be adjusted to reach all possible angles with a simple twist action.

Covers
We stock a large selection of standard T-bar covers (sometimes known as window washing sleeves), all are absorbent and washable for fast dirt removal and a smear free finish. All our covers are available with press stud or velcro fastenings.
We also sell striped heavy duty covers with a small scrub pad at one end, which along with their extra long fibres, are ideal for large areas. Covers are also available with an abrasive strip down one side, providing a full length scrubbing pad for removing tough dirt.

For superior cleaning power and the highest water retention the modern, more advanced, lint free, microfibre covers are the best. The extremely fine microfibres are particularly aggressive against dirt, and they can hold six times their own weight in water. They will readily clean large areas of glass and can easily be rinsed through and dried after use.
If you require advice regarding cleaning tasks or cleaning supplies, then please phone our technical dept on 01276 685985 or e-mail us at info@a1cleaningsupplies.co.uk and one of our experienced team will be happy to help and advise you.
Special Offers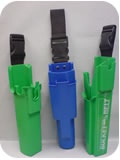 BUCKET ON A BELT.
Unger Classic, Unger Modern or SYR blue.
£13.95 + vat (includes postage)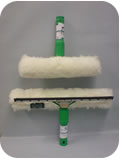 VISA VERSA. 10inch/14inch/18inch.
From £17.95 + vat (includes postage)