If you are looking for a competitively priced wet vacuum cleaner, enter into the shop below to view our product range and order securely on line. Alternatively, find out all there is to know about wet vacuum cleaners below.

A1 Cleaning Supplies introduces a wide range of UK cleaning equipment from leading manufacturers including: Numatic, Prochem, Victor, Taski, Scot Young Research, Contico and others. Take advantage of our fantastic wet vacuum cleaner discounts now, by placing your order easily and securely, using our online shop.
Wet Vacuum Cleaners
There is a large selection of commercial wet vacuum cleaners that we have available to our customers, they are all high capacity wet pick-up machines, many also equipped for dry use. They are all truly professional models, ideally suited to the commercial environment whether it be mopping up liquids, leaks, spills, oils, swarf or maybe just dirt on the factory or workshop floor. Many of the bigger capacity wet vacuums that we stock can even be used for vacuuming offices as they are supplied with both dry use filters and wet use float valve.

Most of the large commercial and industrial wet vacuums are fitted with dual two stage motors (2400W) giving them a very powerful suction capability.They are all supplied with stainless steel pipes and top quality 400mm widetrack brush nozzles and wet pick up nozzles. Our professional wet vacuum machines are all fitted with 15 metre, 3 core cables with moulded plugs. Although most machines are fitted with large wheels to assist when on an uneven surface, we also stock models which are conveniently seated on a stainless steel chassis.

The container drum of commercial wet vacuums we have in stock are usually manufactured of a super tough structofoam material, although we do stock one model where the container in manufactured from an austenitic grade stainless steel. All of our commercial wet vacuums will have a tank tipper system or a convenient dump hose attached, in order to ensure simple and easy emptying. Both systems will allow the machine to be emptied into floor drains or WC's. Some of the larger models that we stock even have a fully automatic submersible pump, with their own hi/lo level float control, for even easier emptying.

For those who prefer the smaller wet vacuum, (which will also double as a dry vacuum), such as the smaller car valeting companies and the domestic user, we recommend the Charles wet and dry vacuum. This small but very powerful unit is also great for both wet and dry cleaning jobs at home, in offices and shops, even pubs, clubs and restaurants. Its highly efficient 1200 watt two stage motor has an exceptional vacuum capability which ensures not only will it suck up dust, animal hairs and crumbs, it will also 'mop' up any unintentional liquid spills up too.

All domestic and commercial wet vacuums are available in either 110v or 230v and are supported by an extensive 2-year guarantee.
If you require advice regarding cleaning tasks or cleaning supplies, then please phone our technical dept on 01276 685985 or e-mail us at info@a1cleaningsupplies.co.uk and one of our experienced team will be happy to help and advise you.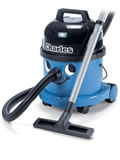 CHARLES WET & DRY VAC
£96.99 + vat (includes postage)