If you are looking for competitively priced Window and Glass sprays, enter the shop below to view our product range and order securely online. Alternatively, find out all there is to know about available window cleaning chemicals below.

A1 Cleaning Supplies introduce a wide range of window and glass cleaning liquids and sprays from leading manufacturers including Clover Chemicals, Wurth, Evans Vanodine, Johnson Diversey, Scot Young Research, Staples, Nilco and others. Take advantage of our online discounts now by placing your order easily and securely using our online shop.

Window and Glass Sprays
Here at A.1. Cleaning supplies, we stock a number of different types of ammonia free window cleaning and glass cleaning sprays. Our product range include environmentally friendly liquid window cleaners that remove
smoke, dirt and grease.
Others that are very concentrated and can be diluted with water, these are often used by professional window cleaners. Finally our biggest selling brands, which are ready to use alcohol or spirit based trigger sprays, which are a popular type of glass cleaner throughout industry.
All our window and glass cleaning products have exceptional cleaning power for a smear and streak free finish, and are also extremely versatile in use. Although ideal for cleaning any glass, mirrors or windows, they can also be used for numerous other cleaning tasks in the workplace or at home.

In the commercial environment, in addition to the usual vision panels in office doors, glass displays, glass shelves, double glazing etc.,modern glass cleaners can also be used to clean ceramic tiles, laminates, stainless steel, aluminium, plastic and many other hard surfaces. They can be used to clean most VDU screens and even photocopiers to ensure clearer images.

In the home, glass cleaners can equally be used on the same variety of hard surfaces, but will also clean the outer shell of domestic white goods such as fridges, dishwashers and washing machines. They can even be used to clean and remove finger marks from many other items such as kettles and toasters.

Although we do not stock many automotive products, we do carry a small quantity of windscreen washer fluids, in convenient spray bottles. These glass cleaners will contain various solvents such as methanol, ethylene glycol, and isopropanol in order to break down the road dirt and traffic film that will accumulate on a windscreen. All of our window and glass cleaning sprays are sold in cases of either 6x750ml or 12x1ltr sizes. Some are also available in 5ltr or 25ltr containers.
If you require advice regarding cleaning tasks or cleaning supplies, then please phone our technical dept on 01276 685985 or e-mail us at info@a1cleaningsupplies.co.uk and one of our experienced team will be happy to help and advise you.
Special Offers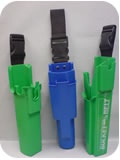 BUCKET ON A BELT.
Unger Classic, Unger Modern or SYR blue.
£13.95 + vat (includes postage)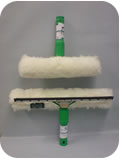 VISA VERSA. 10inch/14inch/18inch.
From £17.95 + vat (includes postage)